Label Size Selection and Electronic Commercial Invoice
Letter Sized and Thermal Label Selection
To change your default label size please follow the steps below:
Click the welcome button in the top right section of the app
Click "Settings"
Navigate to "Preferred Label Size" and select your preferred label.  Thermal or Letter Sized.
Click "Save Settings"
You're done!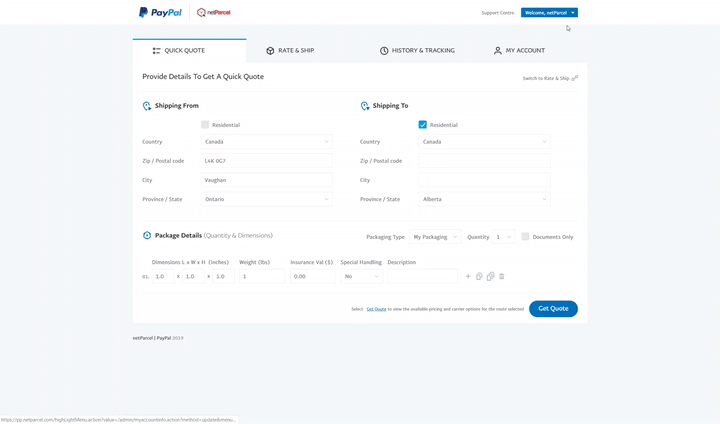 Electronic Commercial Invoice
netParcel is happy to support Paperless Commercial Invoices for all international UPS shipments.  Moving forward we will no longer create 3 copies of the commercial invoice for you to print and include with your shipment. The information will now be submitted directly to UPS electronically upon label creation and will aid in faster clearance and less time on your end printing and attaching to your parcels!
The earlier the customs clearance process begins, the more efficient you will be in getting your international shipments on their way much faster. UPS Paperless® Invoice is an industry first that eliminates the need for paper commercial invoices and other documentation required by customs in many countries. Here are just some of the advantages of filing online via netParcel:
Reduce the risk of physical paperwork attached to a shipment being lost in transit
Eliminate redundant data entry, saving time and reducing the chance of errors or inconsistencies
Get data to your customs broker earlier, starting the clearance process before the shipment even gets to the border
Receive alerts quickly for any customs issues that could cause delays
Help keep customs values confidential when shipping directly to customers
Go green and reduce paper usage
https://www.ups.com/us/en/services/knowledge-center/article.page?kid=aa3919cd
A strategic and digital marketer, Lee has been in the online space for almost a decade working for successful, big brand Canadian retailers. Lee brings a wealth of marketing and eCommerce expertise to netParcel. She is passionate about social media and has been looking for cheaper ways to ship all of her online purchases for years. Lee has two young boys that add just the right amount of chaos to keep life exciting. She can be found on her smartphone and cooking -- almost always at the same time.